 BACKGROUND IMAGE: iSTOCK/GETTY IMAGES
Your guide to successful HR and HCM software implementation
Editor's note
HR executives and other company leaders charged with finding the best employees, keeping them happy and simply getting them paid have a lot of strategic technology decisions to make. To that end, this essential guide to HCM software implementation takes you through the critical issues using articles filled with expert advice, general principles and takeaways that can be gleaned from others' experience.
Human capital management (HCM) software systems can save companies tremendous amounts of money, effort and time. HCM software can also help companies capitalize more effectively on their employees' talents and productivity, reduce risk, and reap greater returns on their investments.
HCM has evolved into a catchall concept that captures the core HR concept, so there can exist a range of functionality when you hear the term HCM system. The software typically provides core HR tools -- such as payroll, attendance, employee records, and benefits administration -- to make basic HR processes run more efficiently. An HCM software system also can help improve a company's competitive edge by cultivating employees' skills and fostering companywide collaboration. These talent-management functions of HCM software go beyond core HR to help companies identify, attract and retain top talent and cultivate their employees' full potential through internal trainings and skill building, collaboration, performance management, and succession planning.
The benefits of HCM software depend on successful implementations, which are tricky to get right. Such systems are not implemented in some ideal environment, nor are they deployed in a vacuum. This is why successful implementation rests on a number of factors beyond the technology aspects. For starters, current HR processes and legacy systems must be factored into HCM product decisions. It is critical to an organization's business goals that hybrid software as a service (SaaS) and on-premises systems integrate well, as just one example. And there is the human factor, which touches everything from company culture, to employees' receptivity to change, to the executives who must be convinced that HCM software will yield cost savings or revenue-boosting results. When it comes to HR technology, well-planned strategy, vision and change management are all key.
To that end, this HCM software implementation guide takes you through these common areas that affect implementation. First, we look at how to research systems and make the business case. Then we examine the nuts and bolts of implementation and, third, provide specifics on change management, that crucial make-or-break factor. Finally, once you are armed with this advice on creating a strategy to avoid HCM software implementation failure, you can take a look at product information in our buyer's guide. Be sure to also visit our section about the quickly changing landscape of HR technology. It can help you stay abreast of technologies that can help you better manage HR functions in the near future.
1

The HCM software systems selection and vendor relationship

Choosing the best software and going through the sales process can be challenging for any business leader. That's why we've assembled expert advice on how to go strategically through the product selection and buying process. The articles in this section offer expert advice on making the best HCM software decisions, how to navigate interactions with vendors and why you should consider cloud.
2

HCM software implementation best practices, challenges

This section offers stories that provide a real-world look into what makes HCM software implementations work -- and challenges you may encounter along the way. HR and technology leaders share advice on selecting HCM systems, how to develop a strategy and tackle rollouts, tips for identifying business goals, best practices for existing resources, and insights into avoiding common mistakes.

Download this free guide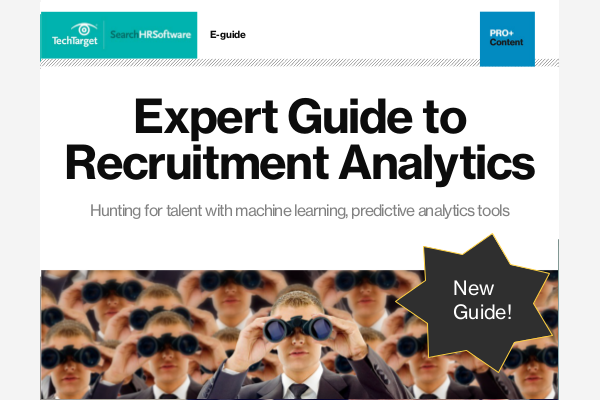 6 Secrets of Competitive Recruiting Best Practices
Whether you're a hiring manager, HR or IT professional, in this guide, you'll discover how your business can apply analytics to help ease the hiring process and spot insights that would otherwise be impossible to notice.
3

HR and HCM challenges, benefits and adoption tips

Change management is a critical component of any technology project and this holds true for HCM software system implementations. Ideally, change management is woven throughout the project. It encompasses everything from getting executive buy-in -- for example, building a business case, covered in the first section above -- to getting users involved early on -- for example, including them in product selection as some of the above experts did -- to the marketing campaigns and training surrounding a new system. So although some change management aspects are contained in many of the articles above, the pieces that follow focus more directly on HCM change management, especially as it relates to users. As one article makes clear, change management is the difference between HCM system success and failure. Ignore the issue at your own peril.