 BACKGROUND IMAGE: iSTOCK/GETTY IMAGES
The essential guide to managing HR technology trends
Editor's note
HR technology trends can be summarized with a single word -- disruption.
Arguably, no other business function is undergoing the dramatic changes that HR is experiencing. Charged with becoming more strategic than ever before, HR must become exponentially more tech-savvy and simultaneously more focused on the softer side of workforce management.
Indeed, the changing workforce is demanding both. The rest of the company, as well, will have to strike that tricky balance of tech and soft skills, since leaders of departments outside HR will also be highly involved in keeping this changing workforce happy and finding effective new ways to manage people.
With that in mind, here are the most disruptive HR technology trends boiled down into two macro-trends.
The employee experience concept is informing all other decisions. Today's workers demand different experiences from their jobs than did those of the past. From expectations about mobile access, greater collaboration, meaningful goals and a more humane work environment, they are not content with punching a clock or being treated like a number.
In turn, these expectations are influencing every aspect of company strategy and people management. One report found that companies that emphasized wellness, diversity and flexible schedules performed 14% better than a control group. Many other studies tie financial gains to an emphasis on creating a good experience for employees.
In response to this, as well as other forces, the HR technology market is exploding with new tools, from wellness apps to better coaching tools to a move toward more intuitive HR systems that more closely resemble what's found in the consumer realm.
HR tech's accelerating move to the cloud is enabling exponential transformation. As companies move from legacy systems to cloud ERP, human capital management (HCM) and other systems, a plethora of capabilities become more available. For example, Deloitte's 2017 Global Human Capital Trends report found a "seismic shift" in the use of people analytics as the adoption of cloud-based systems becomes widespread, enabling easier access to real-time data for both executives and HR. Moving to the cloud enables a host of other capabilities, such as just-in-time feedback, collaborative learning and predictive analytics. Nearly all of the most modern HR tools are delivered online and require cloud. Moreover, people analytics and more advanced forms that use AI and machine learning require the processing power and data storage of the cloud.
For help in navigating the confusing world of HR technology trends, this guide takes you through common issues, strategies and developments so you can more effectively help lead your company into the future of work -- and into success.
1

Employee engagement gets a much-needed makeover

Happier employees help make companies successful. That's why one of the most important HR trends is the increased attention being given to the employee experience, a concept that includes the depth and breadth of how employees perceive their jobs. Employee experience takes a broader focus than employee engagement -- encompassing work technology, physical space and culture -- and seeks to address more systemic issues. Companies that want to gain a competitive edge would do well to research the concept and the host of technologies that can help to execute a strong strategy.
2

HR gets serious about people analytics

Analytics used as part of HR strategy can help improve all aspects of employee-related decisions. Just a few examples: People analytics, often called HR analytics and talent analytics, can help you acquire the right employees more quickly and ensure they are paid fairly. People analytics uses statistics and modeling on worker-related data to see and predict patterns. People analytics can help you study and predict top performers and use those lessons to help other workers improve their performance and productivity. Workforce analytics, a subset of people analytics, can help you understand what kind of workers you need and where you need them and help close skills gaps. People analytics is not without its challenges, but as data increasingly becomes the differentiator in getting and keeping the right talent, it ranks as one of the most important HR technology trends.

Download this free guide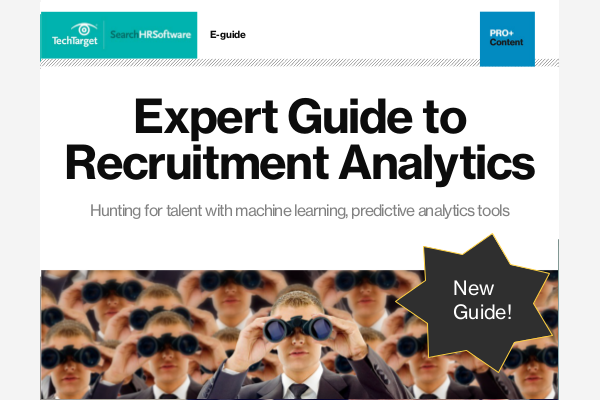 6 Secrets of Competitive Recruiting Best Practices
Whether you're a hiring manager, HR or IT professional, in this guide, you'll discover how your business can apply analytics to help ease the hiring process and spot insights that would otherwise be impossible to notice.
3

Options for growing talent continue to develop

Learning and performance -- both critical areas in talent management -- are inextricably linked. For example, learning can boost performance, and performance issues can point to training opportunities. Indeed, helping employees develop can, in turn, help them become more productive and contribute more to a company's success. In both learning and performance, HR technology trends include more tools to help HR and company leaders getting more strategic, such as using continuous performance management for employees' ongoing growth.
4

Tools expand to manage teams, new styles of working

The concept of where and how work gets done is continuing to undergo a dramatic transformation. Companies are moving away from a hierarchal structure in a shared physical location, while teams are becoming increasingly important and the gig economy is growing. In this ever-changing world, collaboration and mobile tools are only becoming more important in keeping workers connected and work flowing smoothly.
5

Employee wellness programs continue to grow

More and more companies are putting an emphasis on employee health and wellness. Research shows that corporate wellness programs can boost morale, improve retention, reduce healthcare costs and increase productivity. Many companies use fitness trackers to encourage employees to move more, and some offer more leading-edge components, such as mindfulness and financial wellness programs. Companies may choose to partner with any of the growing number of wellness vendors to help manage their health programs, and a number of digital tools are also available to help boost involvement.
6

Moving to the cloud becoming the new normal in HR

Moving to the cloud was once just about saving money. The reasons changed as more companies moved their HR systems to the cloud to gain a competitive edge by getting access to the newer HR tools and capabilities that cloud provides. That's still true, with companies taking an even broader strategic view of the cloud. Indeed, it's virtually impossible to stay competitive with a legacy HR system. Still, moving to the cloud demands all the strategic thinking, change management and forethought that any big technology move requires.
7

Following HR technology trends requires a grasp of common terms

Here are some of the common HR technology terms, as well other terms related to HR, that you'll want to have down pat before talking with co-workers and vendors.