Evaluate
Weigh the pros and cons of technologies, products and projects you are considering.
Making the shift to continuous performance management
In this guide, business leaders and analysts discuss the growing use of software to provide continuous feedback among employees and the reasons the tools can encourage collaboration and improve business results.
Introduction
Continuous performance management is a raging trend in HR -- as hot as machine learning, chat bots and predictive analytics and just as capable of disrupting HR technology and processes.
Long one of the pillars of HR, performance management is becoming continuous, or more frequent, at many companies. As businesses focus on teams and become less hierarchical, many are scrapping scaled ratings of employees, streamlining annual reviews and using software to encourage constant feedback and coaching.
General Electric, once noted for "stack ranking" employees depending on their performance, adopted continuous performance management for 180,000 salaried employees and deployed an in-house mobile application. The method is also used at other big companies such as Schneider Electric, Accenture, Adobe and Deloitte Consulting.
Software vendors are providing tools to meet the demand and automate the process.
SAP, for example, introduced a continuous performance management application that facilitates frequent feedback among employees and then stores achievements and feedback to allow easier completion of annual reviews. Newer vendors such as Reflektive, Zugata and TINYpulse provide similar applications.
Forrester Research examined continuous performance management and found that the method can boost business outcomes partly by improving collaboration and freeing managers from completing multipage annual reviews that require a lot of time.
Forrester cited BetterWorks, 7Geese and Workboard for offering continuous performance management to improve Objectives and Key Results, a method for managing goals.
While at least one critic says it can be distracting or open to abuse, especially if the feedback is anonymous, the change to continuous performance management is expected to accelerate. In a report, Deloitte said the trend will continue to disrupt HR technology in "a massive way."
1

Choosing products

-
Tips and tools for deploying continuous performance management
A wide array of applications is available to help HR executives implement an effective and worthwhile program for continuous performance management. In this package of stories, analysts and business executives discuss the impact of new tools. And users at several companies discuss their efforts to launch programs and inspire employees to participate.
2

News and trends

-
Why companies are overhauling performance management
Companies are seeking to engage employees with a new type of performance management that encourages participation in weekly feedback or daily huddles along with frequent updating of goals. This section describes why companies such as General Electric, Deloitte Consulting, PricewaterhouseCoopers and Adobe are adopting continuous performance management to supplement or supplant annual reviews and scaled ratings. It also examines why the trend is speeding up and how software can help organizations scale new ways to evaluate and motivate workers.

Download this free guide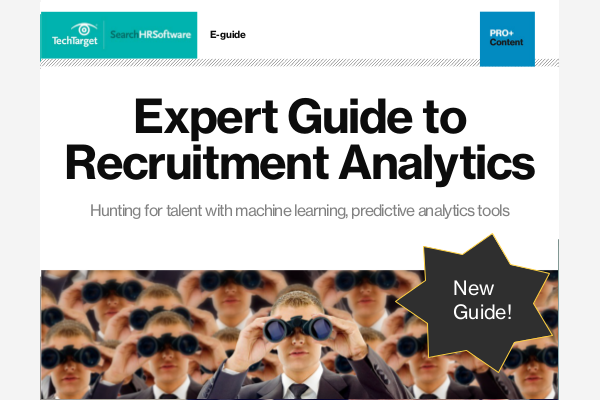 6 Secrets of Competitive Recruiting Best Practices
Whether you're a hiring manager, HR or IT professional, in this guide, you'll discover how your business can apply analytics to help ease the hiring process and spot insights that would otherwise be impossible to notice.
3

Case studies

-
Users weigh their picks for performance management vendors
Companies face difficult and diverse choices in selecting a vendor for continuous performance management. In these articles, business leaders talk about how they structure performance management and the reasons they purchased products.