Get started
Bring yourself up to speed with our introductory content.
A guide to talent management tools and trends
This guide explores talent management software and best practices, with insight into the impact of emerging trends like cloud HR and analytics.
Introduction
The war for talent rages on. With the market for quality workers becoming increasingly competitive, executives are making their company's human capital a top priority. HR leaders have more information at their fingertips than ever before and have turned to analytics tools to find, hire and retain the best talent. Companies also want to implement performance management technology to appeal to an increasingly collaborative and tech-savvy crop of new workers.
In this guide, we explore the four pillars that make up talent management, and its potential benefits. These four functions are recruitment, performance management, learning and compensation management. The recruitment module helps HR to attract qualified candidates and keep track of resumes through an applicant tracking system. Performance management enables managers to define and monitor employee goals. Learning tools aid with onboarding, provide employees with training materials to improve their performance and keep track of skill progression. Compensation management connects performance to pay and makes sure that every employee is paid correctly.
Talent management software unifies these four functions, although a number of products from niche vendors specifically address one or more of these areas.
Read on to learn more about talent management tools and trends.
1

Evaluating requirements

-
Could your company benefit from talent management software?
It's often difficult for companies to keep track of their staff's goals or skills in a meaningful way. This can lead to employees feeling slighted when they are not properly recognized for their efforts. When frustrated workers resign, the business is forced to spend time and money to recruit and train new employees.
Talent management tools can bolster employee retention by explicitly documenting goals and rewarding success with pay-for-performance compensation management. The recruitment function allows companies to hire the right workers from the start, which experts say can lead to a stronger workforce.
These articles take a closer look at the ways companies can benefit from talent management software.
2

Choosing software

-
How to match talent management tools to your company's needs
There are several important factors to keep in mind when choosing talent management tools, according to industry experts. HR leaders should first examine the workforce, taking into consideration the number of employees, their geographic locations and turnover rates. Any other software that the company uses, such as a CRM or ERP systems, should also be taken into account for integration purposes.
HR leaders should go into the decision process with a clear idea of what they'd like to accomplish with the aid of new software. Is the goal to automate manual processes, standardize a number of disparate systems or completely reinvent the HR approach? The answer will help HR managers choose the right talent management software to address the company's specific needs.
Find more detailed advice for selecting the right talent management software in the following articles.

Download this free guide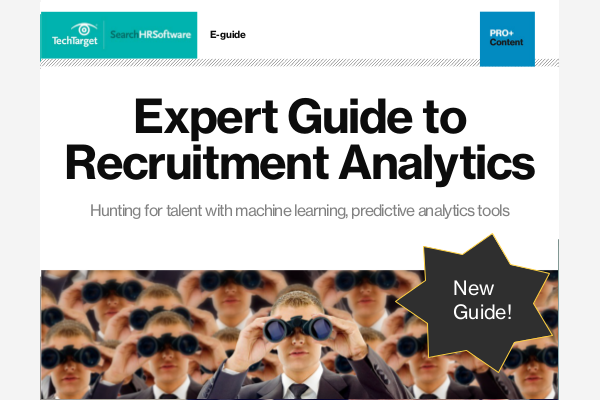 6 Secrets of Competitive Recruiting Best Practices
Whether you're a hiring manager, HR or IT professional, in this guide, you'll discover how your business can apply analytics to help ease the hiring process and spot insights that would otherwise be impossible to notice.
3

Overcoming challenges

-
System integration, training are essential to talent management success
Talent management tools won't resolve employee recruitment and retention issues by themselves. Companies need to develop a clear plan to navigate talent management pitfalls.
For example, because integration across modules is one of the greatest challenges cited by talent management software users, experts suggest that business leaders identify which of the four pillars is the most crucial for the company, and then choose a system that is strongest in that area.
These articles focus on the challenges of implementing talent management software, with some expert advice for overcoming them.
4

Emerging trends

-
How social, cloud, analytics affect talent management
Social media, the cloud and analytics are changing talent management software and the way companies use it.
Vendors are revamping their recruitment modules with social features, adding collaborative capabilities to learning and implementing 360-degree feedback into performance management. Software as a service HR products are also on the rise, and talent management systems are leading the way. Low upfront costs and automatic upgrades are two key benefits of using cloud-based software, and HR managers are taking notice.
The cloud also allows companies to access more integrated data about employees. Analytics tools help companies make more informed decisions across the talent management spectrum.
The following articles explore these trends and their growing implications for HR departments.
5

Glossary

-
Important talent management terms
Here are a few more important terms that overlap with talent management.