Get started
Bring yourself up to speed with our introductory content.
A guide to HR analytics
Learn how to measure employee engagement and maximize human resources' role in the organization with this guide to HR analytics.
Introduction
Human resources is stepping into the spotlight with HR analytics. In years past, one of HR's primary goals was to collect and keep track of employees' personal and professional information, such as payroll, health benefits and performance reviews. Now, the tide of technology has reached HR's shores and is carrying it into deeper waters where it can analyze data to play a more active role in the organization.
It's important to note that HR metrics are not the same as HR analytics. HR managers typically used metrics to measure such data as turnover rates and sick days. With HR analytics, they can gauge employee engagement and whether or not workers have the skills to reach company goals. HR representatives can now talk with business leaders, find out what they need and hire accordingly. HR analytics allows human resources to interpret data, recognize trends or issues, and take proactive steps with different departments to keep the organization running smoothly and profitably.
In this guide, learn more about how HR analytics has pushed human resources into a more active and involved role in organizations' planning and objectives.
1

Getting started

-
HR analytics
The first step you take is always the hardest, but it's next to impossible if you don't know what the first step is. Here you will learn how to get started with HR analytics, and it's not as difficult as you may think. You are not alone. Early adopters of HR analytics share their experiences -- both good and bad -- with the technology. They not only reveal the first step to HR analytics, but also provide four more for good measure. Armed with the information in these articles, you'll be off and running with HR analytics.
2

Growth

-
Increased interest in HR analytics
The word is out on HR analytics, and interest -- along with technology -- is growing rapidly. A positive sign of this increased enthusiasm is that in addition to numerous HR analytics vendors, talent management suites are now available with embedded HR analytics. Organizations are also turning their attention to employee engagement with HR analytics, doing away with unreliable surveys and using sentiment analysis to measure engagement in real time. What other developments are happening in HR analytics? Read on and find out.
News
Proponents say HR data analytics allows organizations to maximize their workforce by ensuring their employees have the necessary skills to achieve the organization's objectives. Continue Reading
Feature
Instead of the usual survey to gauge employees' happiness and productivity at work, organizations are now turning to sentiment analysis to measure employee engagement. With sentiment analysis, organizations can measure employee engagement in real time and uncover the root causes of disengagement. Continue Reading

Download this free guide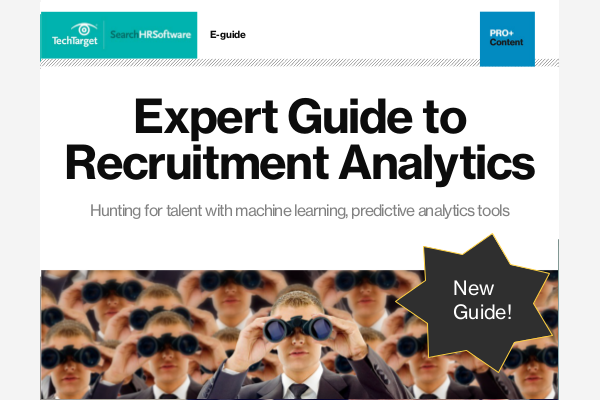 6 Secrets of Competitive Recruiting Best Practices
Whether you're a hiring manager, HR or IT professional, in this guide, you'll discover how your business can apply analytics to help ease the hiring process and spot insights that would otherwise be impossible to notice.
3

Strategies

-
HR analytics and company strategy
If interest in HR analytics is growing, it's because it has delivered results and strengthened the human resources profile within the organization. For instance, one expert says that CFOs are showing more interest in human resources application suites, with some choosing to unify HR analytics with their financial platforms. This recognition of HR analytics and the benefits it brings to an organization's bottom line is giving human resources an integral role in planning and achieving business objectives, as detailed in this section.
Feature
Do HR analytics and financial management systems go together like peanut butter and jelly? Besides data quality and analysis benefits, one expert thinks that the pairing could be critical to the continued relevance of the HR profession. Continue Reading
Feature
Because employees are not always willing to be forthright when they answer workplace surveys provided by their employer, the data is not always reliable. One expert suggests that taking a page out of the customer relationship management (CRM) playbook might be in order. Social media and sentiment analysis are tools that organizations use to measure customer satisfaction, and they could prove just as useful in measuring employee engagement. Continue Reading
Feature
With the right metrics for HR analysis, human resources can identify each department's key business needs and whether -- or how well -- they are being met. By doing so, human resources could play a more strategic role. Continue Reading
4

Glossary

-
Important terms related to HR analytics
Sound like an HR analytics expert with these related terms.