Definition
recruitment management system
A recruitment management system (RMS) is a set of tools designed to manage the recruiting process. It may be the most important core human resources (HR) system. Recruiting is competitive, especially for those with high-demand technical skills, and it's driving interest in sophisticated recruiting systems. These systems are being designed to improve the efficiency of recruiters as well as job seekers.
Recruitment management systems have a range of functions. They include applicant tracking systems for managing job postings and applications, and customer relationship management-type functions to keep applicants connected and engaged. Many of these tasks are automated. Routine tasks, such as scheduling phone calls and in-person interviews, comprise part of the work performed by these systems. Advanced technologies used to rank candidates are recruiting software features.
Content Continues Below

Download this free guide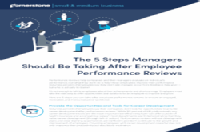 5 Steps Managers Should Take After Employee Performance Reviews
When it comes to performance reviews, it's not enough to talk to employees about their achievements and shortcomings—employers must also offer opportunities and solutions for an employee to improve and grow. Here are 5 steps you can take after employee performance reviews to ensure an engaged, motivated, and more productive workforce.
Recruitment management systems using advanced tech
The ranking systems use algorithms to analyze an employer's workforce. The technology may look at incumbent employee performance reviews, resumes and other records to identify the characteristics of a firm's most successful employees. These technologies look for patterns in this data, which is a machine learning technique. This informs the ranking system that employers use to select applicants to interview.
Recruiting software systems are also deploying anti-bias technology. It can analyze job postings to flag words and phrases signaling gender preference, for example, which can discourage some applicants. The anti-bias technology is also applied to hiring. A hiring manager, for instance, may favor graduates of certain universities. The technology can exclude this limitation. The focus is on identifying applicants who best meet the job requirements.
Simplification is another aspect of a recruitment management system
Recruitment management systems are also getting friendlier. Applicants may see a chatbot on an employer's job page that's able to converse and answer questions. A chatbot may replace a long and tedious FAQ section.
Ease of use is also a goal. Instead of pasting in a resume, applicants may only need to supply a LinkedIn link. Once these systems learn a little about an applicant, it can suggest other jobs that may fit their skill set. The intent is to engage the applicant and keep them interested.
Online recruitment management systems, offered by third parties, create a one-stop application process for job seekers. They may augment, but do not replace, an employer's recruitment management system.
For employers, online recruitment management systems manage job ads and provide a curated list of job applicants based on their own analysis. Features include an applicant tracking system capability and, often, the ability to integrate with their customer's existing applicant tracking system.
This was last updated in
March 2018
Continue Reading About recruitment management system
Dig Deeper on Employee recruitment software