Definition
performance management software
Performance management software is designed to improve business performance by spurring employee productivity. It works to ensure individual employees and teams are engaged and in alignment with organizational goals. It replaces an annual performance review process with real-time performance tracking, goal setting and feedback.
These systems do something that annual reviews can't do. They enable a business to adjust individual employee goals and expectations as conditions change. Annual reviews, according to critics, are too focused on the past and not on forward-looking needs.
Performance management software systems are overseen by the HR department. They fit under the umbrella of talent management systems. HR trains managers and employees in the software's use.
Performance management software goals
As next-generation HR software, performance management systems help companies address the modern goals of continually monitoring performance while giving employees feedback and support. Performance management software can track individual contributions to a team, as well as that team's ability to meet business objectives, thus tying performance into the company's bottom line.
Improving employee engagement is another goal of performance management software. An employee can see current individual performance goals and their progress toward meeting them. This includes tracking efforts on specific projects. Managers measure individual performance against goals, and employees get a better idea of where they stand.
Performance management software features
For managers, performance management software ends the tedious end-of-year annual review process. But, in return, performance management tools require ongoing use for the best results, and they encourage regular communication between employees and managers.
Another feature of performance systems is 360-degree feedback, which includes not only input from an employee's supervisor, but also from peers and subordinates.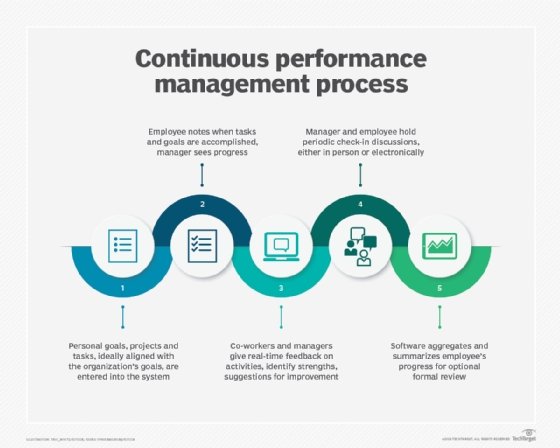 These systems use dashboards for quick and collaborative reviews. They can report individual performance, as well as project and team performance. The systems may also include employee ranking.
An effective performance management program must interact with other tools -- in particular, workforce analytics. Data can be analyzed, for instance, against reporting from financial management systems and sales performance management systems.
Future impact of performance management software
Performance management systems may gain from improvements in artificial intelligence (AI).
For example, gender bias in performance reviews has been identified in multiple studies as a problem for women in the workplace. Also, AI-enabled tools, which can be used to detect patterns in language that may signal bias, are already getting use in recruitment management software.
This was last updated in
January 2018
Continue Reading About performance management software