Definition
human capital management (HCM)
Human capital management (HCM) is the comprehensive set of practices for recruiting, managing, developing and optimizing the human resources of an organization.
The phrase connotes an approach to human resource management (HRM) that views employees as assets that can be invested in and managed to maximize their business value.
Why is HCM important?
Human capital management is crucial for business success as workforce trends and laws add more complexity to recruitment, retention, legislative compliance and employee management. In today's workplace, workforce management success requires that HR managers act proactively rather than reactively, and HCM helps them to do so by bringing HR functions together in one accessible place, such as an HCM software suite.
Current workplace trends that make HCM an HR tool of choice:
Changing demographics – As a workforce ages, new generations of workers bring different work styles and needs. For example, the latest generations of Generation Z and Millennials have high expectations for work-life balance. Changing demographics require strategy adjustments for all aspects of workforce management.
Gig economy – The upsurge of temporary jobs done by contractors and freelancers rather than full-time employees complicates the management of worker status, tax and employment regulations, schedules and contracts.
Remote workforce – With the rise of full-time, work-at-home employees, HR departments are required to use a blend of traditional and new engagement, training and onboarding tools such as video chat, messaging and mobile applications.
Intangible assets – In the past, a company's business assets included capital, inventory, investments and property. Today, the internet and social media have turned brand, reputation and leadership into additional assets in the quest for competitive advantage. These assets are directly related to a workforce's skills, efforts and how they are managed.
Complex legislation – Workplace laws at the federal, state and local levels change quickly and non-compliance can lead to hefty fines and court costs. These laws include the Affordable Care Act (ACA), Family and Medical Leave Act (FMLA), Americans with Disabilities Act (ADA) and anti-harassment laws related to the #MeToo movement. Organizations must stay abreast of employment legislation and conduct regular compliance audits.
Big HR data – Organizations collect a massive amount of data on workforce needs, wants, habits and trends in order to improve workforce management. HCM allows HR to manage and analyze this data in a faster, more efficient manner.
HCM software
HCM has come to be nearly synonymous with the human resources function in organizations. In HR technology, the comprehensive software systems for managing HR processes differ little from HCM suites. For example, the functions of most human resource information systems (HRIS) are often the same as HCM systems. However, some observers use HCM in a narrow sense to denote just the labor-scheduling and time-tracking functions of HR.
HCM suites are sold either as components of enterprise resource planning (ERP) systems or as separate products that are typically integrated with ERP. In recent years, on-premises HCM has been superseded by software as a service (SaaS) as the preferred deployment option.
In most environments, HCM technologies are integrated, meaning they impact business operations by streamlining HR, payroll, and timekeeping processes (removing HR silos) for improved return on investment (ROI).
Many HCM suites are cloud-based. Cloud-based HCM systems replace previously separate, on-premise HR systems and programs.
Cloud-based HCM benefits include the following:
Easy updates and addition of new features.
Requires fewer internal technology and server resources.
Service is maintained even when organizational hardware is changed.
Reduces the human errors that can occur when inputting data into multiple HR systems.
HCM functions
The functions of HCM software are generally organized into the following categories:
HCM suites also typically have technologies that cut across functional areas, notably analytics, social media, collaboration and employee engagement. Many also allow mobile access to HR data and applications, especially the self-service features.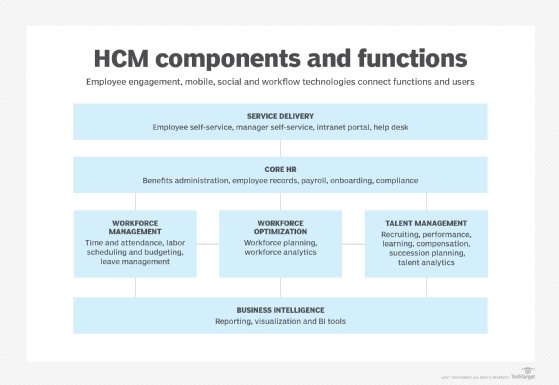 Analytics is usually the critical element in strategic human capital management, which seeks to more closely align HCM with the financial success of the company. Sometimes the analytics tools are localized to a particular HCM function. For example, workforce analytics can help optimize decisions made in the workforce planning module, while social media and collaboration tools can facilitate the frequent feedback and communication required for continuous performance management.
In addition to the functionalities offered within HCM suites, some organizations are now implementing specialized technology from smaller, independent vendors to address individual areas like recruiting, performance management and engagement. These applications can be integrated with HCM management suites using application programming interfaces (APIs).
Specialized HR applications include the following:
HCM vs. HRMS
In terms of technology, the features of HCM and human resource management system (HRMS) software are increasingly blurred, and the terms may soon become interchangeable as recent trends show that many software vendors confuse or intermingle the terms.
Both HCM and HRMS incorporate cloud computing, databases and other elements to handle workforce management, and include most of the elements found in a standard HRIS system.
HCM systems include the following:
HRIS capabilities and features
Employee performance and goal tracking
Onboarding
Analytics
Position control and salary planning
Access to company databases, policies and procedures, documentation and data.
Global capabilities including multi-lingual, multi-currency and country-specific formatting
HRMS products include the following:
Features and capabilities offered in both HRIS and HCM systems
Time and labor management (TLM)
Future of HCM
HCM will continue to transform HR as technology-driven business models take center stage. Automation of repetitive HR tasks, along with technologies like artificial intelligence (AI) and machine learning (ML), will allow HR professionals to spend less time answering common employee questions and more time engaging with employees and candidates.
Machine learning applications are already used for applicant tracking and assessments. As AI capabilities within these applications grow, AI algorithms will reveal additional patterns and individual factors that will lead to better hires. AI also enables features like digital screening, video interviews and online video interview analysis.
ML tools are also being used to lead potential applicants to a company's career site through social media and job search sites. As ML technology matures, organizations will increase their use of social media, employee data and analytics tools to enhance all aspects of the employee experience.
HCM technology will also change the way employee survey data is analyzed. As survey applications get better at natural language processing (NLP), workforce surveys will become infinitely more useful. HR teams will be able to view survey results immediately, quickly route graphs and plain-language data insights to management, and implement changes based on those results.
Some critics claim that HCM technology will take the 'human' out of human resources. However, HCM technology will likely have the opposite effect as it enhances the ability of HR to use and grow those skills that are most human. By giving HR professionals more time and information resources, HCM suites enable better use of data, more intuitive processes, more effective communication and better relationships within the workforce.
This was last updated in
July 2019
Continue Reading About human capital management (HCM)
Dig Deeper on HR systems and HCM software