 BACKGROUND IMAGE: iSTOCK/GETTY IMAGES
Definition
employee experience
Employee experience is a worker's observations and perceptions about his or her employment at a particular company. Experience is often influenced by the company's physical workspace, the work-life balance the company provides and technology that enables productivity and technology. Employee experience borrows heavily from customer experience management, using design thinking strategies to optimize the company's work environment, culture, HR services and events. Just as marketers have worked to understand the customer experience at touchpoints across the entire customer journey, companies are creating employee journey maps which outline the steps employees go through in their lifecycles in order to address the goals, pain points and required actions at each step, or "moments that matter."
To nurture positive employee experience, stakeholders and employee experience designers define employee personas and segment different groups' needs. Surveys, people analytics and talking to employees can boost the accuracy and effectiveness of a company's employee experience map. Such inquiry can yield important information, such as:
the point at which candidates make a decision to work for a company;
the effectiveness of an onboarding system;
changes in employee experience as a company grows;
employees' ideas for improvements; and
different ways management can connect with employees.
The trend toward focusing on employee experience is evidenced in part by the increased number of HR titles that include "employee experience," such as chief employee experience officer or employee experience leader.
Often, key employee experience roles are considered to be part of internal communications. For example, at WeWork, which promotes shared office spaces, the role is part of the Global Internal Communications team and is focused on engaging and connecting employees through programs and events. At public relations giant Edelman, a senior vice president leads an Employee Experience Team, which is focused on developing and executing internal communications, as well as culture and change management. In mid-2019 Amazon, was looking to hire a Director of Employee Experience -- reporting to the Vice President of People -- to head global internal communications.
The most successful organizations attract and retain top talent. When the economy improves, the competition for top talent typically grows more and more competitive, and the need for effective talent acquisition and retention grows in parallel. This is why creating a stellar employee experience is critical. In general, companies that have high employee experience scores, as judged by barometers such as research studies and inclusion in top places to work lists, also have high customer experience scores and positive revenue growth.
Employee experience vs. employee engagement
Many definitions of employee experience sound very similar to employee engagement, if not virtually the same. As an example, employee engagement may be defined as the degree to which employees feel passionate about their job, have a commitment to the organization, or even have an emotional connection to the job and workplace. Yet, after a decade-plus of the term coming to prominence and companies focusing on the idea of employee engagement, many studies show the majority of companies are not making progress and employee engagement in the U.S. is stagnant.
Some experts believe this low score comes from companies equating engagement with a narrow focus on measurement, or on perks, such as free food. Such things can factor into an employee experience strategy, but they do not supplant a holistic and long-term approach to creating happy, loyal and productive employees.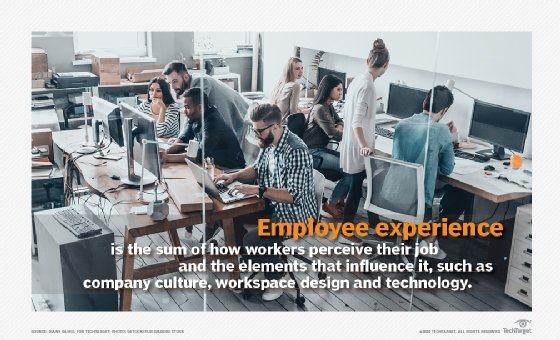 Employee experience tools
Gathering feedback is critical in beginning to think about an employee experience strategy and design process. Talking with employees can help in understanding their receptiveness to change and their pain paint points.
Feedback software, including pulse tools such as TINYPulse and Subcurrent (which supports running polls on the Slack collaboration platform) and employee Net Promoter Score surveys can highlight areas of the organization that are working well or need improvement.
By 2019, software vendors were touting what they called cloud-based "employee experience platform" solutions. They included ServiceNow, Willis Towers Watson's HR Portal Software, Deloitte's ConnectMe, and Ultimate Software's PeopleDoc.
Continue Reading About employee experience
Dig Deeper on Employee engagement and recognition software