Definition
employee experience
Employee experience is a worker's observations and perceptions about his or her employment at a particular company. Experience is often influenced by the company's physical workspace, the work-life balance the company provides and technology that enables productivity.
Employee experience borrows heavily from customer experience management, using design thinking strategies to optimize the company's work environment, culture, HR services and events. Just as marketers have worked to understand the total customer experience at touchpoints across the entire customer journey, companies are creating employee journey maps that outline the steps employees go through in their lifecycles in order to address the goals, pain points and required actions at each step, or "moments that matter."
The trend toward focusing on employee experience is evidenced in part by the increased number of HR titles that include "employee experience," such as chief employee experience officer or employee experience leader.
Often, key employee experience roles are considered part of internal communications. For example, at WeWork, which promotes shared office spaces, the role is part of the global internal communications team and is focused on engaging and connecting employees through programs and events. At public relations giant Edelman, a senior vice president leads an employee experience team, which is focused on developing and executing internal communications, as well as culture and change management. In mid-2019, Amazon was looking to hire a director of employee experience -- reporting to the vice president of people -- to head global internal communications.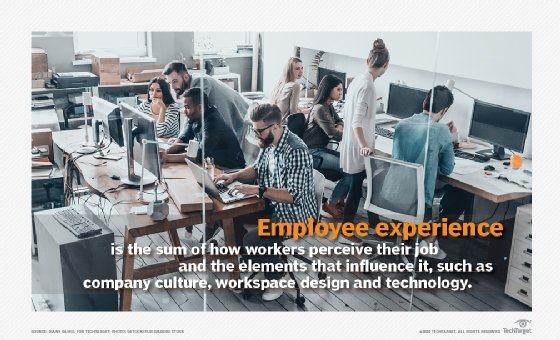 Why is employee experience important?
The most successful organizations attract and retain top talent. When the economy improves, the competition for top talent typically grows more and more competitive, and the need for effective talent acquisition and retention grows in parallel. This is why creating a stellar employee experience is critical. In general, companies that have high employee experience scores, as judged by barometers such as research studies and inclusion in top places to work lists, also have high customer experience scores and positive revenue growth.
If a company's goal is to create a prosperous business, strong workforce and happy customers, then it needs to first focus on how its employees feel about the business. Employee perceptions and experiences will affect every other aspect of a company's processes. Happy employees who perceive their experience as good will be more engaged and will complete tasks more effectively and efficiently.
Furthermore, employee experience directly affects other specific aspects of the workplace. For example, retention rates are strongly affected by employee perceptions. Employees with positive experiences are more likely to stay and commit to an organization than employees with negative experiences.
Similarly, happy employees are more likely to share their experiences with others, leading to more referrals for open positions and an increased likelihood that job candidates will commit to the company after hearing about other employees' experiences. Most job seekers are easily swayed by employee perceptions of the work experience and company culture. This is one reason why company review sites -- such as Glassdoor -- have emerged and grown in popularity. Bad reviews will turn candidates away from a company, while good reviews will draw them in.
Finally, employee experience is also important because it affects worker engagement. Higher engagement levels improve company culture and increase productivity, ultimately creating a positive impact on the company's profits and revenue.
Employee experience vs. employee engagement
Many definitions of employee experience sound very similar to employee engagement, if not virtually the same. As an example, employee engagement may be defined as the degree to which employees feel passionate about their job, have a commitment to the organization or even have an emotional connection to the job and workplace. Yet, after a decade-plus of the term coming to prominence and companies focusing on the idea of employee engagement, many studies show the majority of companies are not making progress, and employee engagement in the U.S. is stagnant.
Some experts believe this low score comes from companies equating engagement with a narrow focus on measurement, or on perks, such as free food. Such things can factor into an employee experience strategy, but they do not supplant a holistic and long-term approach to creating happy, loyal and productive employees.
Employee experience framework
Building an employee experience framework begins with an assessment of employee needs, coming from the worker's perspective. This will allow companies to understand what their employees require to feel happy and fulfilled.
However, the employee experience involves the person's entire lifecycle within a company -- from the time he or she first hears about the business to the end of his or her interactions. Therefore, to create a successful employee experience framework, companies must break down every key touchpoint throughout the employee's journey. This can be difficult since each worker's experience will differ.
The journey often begins with the recruitment and interview processes, then advances to touchpoints such as the offer letter and the employee's first month within the company. As a result, a positive onboarding process and easy assimilation into the work environment are essential to the creation of a strong employee experience framework. Other major touchpoints that affect the framework include first year reviews, employee talent development and professional development opportunities and promotions.
Additionally, how a company responds to employees' personal milestones, such as marriage and childbirth, should be taken into consideration when designing the employee experience framework. Not only should time off plans and offerings be considered, but processes to ease transitions back into the workplace after extended time away should be implemented as well.
Finally, the leader's voice is an essential element of the employee experience framework. Leaders, such as executives and managers, are responsible for creating the company culture and confirming business values. Employees should be able to relate to their leaders. Furthermore, executives should provide managers with clear guidelines of what is expected of them while also providing the relevant skills and information needed to take positive action and strengthen the employee experience.
Overall, the company's business strategy should be woven into its people strategy and employee experience framework to facilitate success.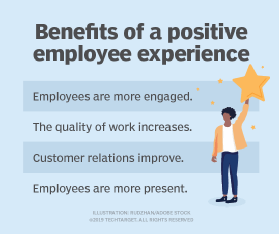 Benefits of a positive employee experience
A positive employee experience is facilitated by trust and respect between workers and their leaders. Once this is established, employees will be more willing offer honest feedback, which can then be used to make beneficial changes within the workplace. Strengthening the employee experience will present numerous benefits, including the following:
More engaged employees. Disengaged employees can cost companies billions of extra dollars each year. As mentioned before, a positive employee experience will have the result of creating happier employees that are more likely to engage and commit to their work. This will increase the company's profits while also reducing the amount of extra costs incurred from disengagement.
The quality of work increases. Most employees' success in their job is based on their happiness levels, rather than their actual IQ or skillset. This is because the brain of a satisfied and happy employee will perform better than that of a discontented and stressed employee. Therefore, a strong employee experience that fosters happiness will improve the overall quality of work and enhance success.
Improved customer relations. As mentioned before, the employee experience will affect all areas of the business, including the customer experience. A positive employee experience will improve customer service. Happy employees are more likely to convey better moods and emotions while interacting with customers. Their dedication to and understanding of the products and services is also strengthened, allowing them to provide optimized support to customers.
Employees are more present. Unhappy employees are more likely to be absent from the workplace. This creates the risk of decreased company morale, productivity and finances. By creating a strong employee experience, a company is building an environment that workers will want to come to every day, knowing it is a place in which they can thrive and be happy.
How to create a strong employee experience
To develop a positive employee experience, stakeholders and employee experience designers define employee personas and segment different groups' needs. Surveys, people analytics and talking to employees one-on-one or in small groups can boost the accuracy and effectiveness of a company's employee experience map. Employers should not make assumptions about what their workers might want or need, they should hear from the employees directly. The only people that will clearly know how to elevate the employee experience are the employees themselves.
Gathering continuous employee feedback can yield important information, such as the following:
the point at which candidates make a decision to work for a company;
the effectiveness of onboarding processes;
changes in employee experience as a company grows;
employees' ideas for improvements; and
different ways management can connect with employees.
Various other workplace practices can be implemented to create a strong, integrated experience for employees. To start, companies should invest in effective, user-friendly technology and make it available to all workers. The technology should be employee-centric, and it should focus on exceeding the needs expressed by workers and resolving challenges that have been shared through feedback. Integrating strong, user-friendly technology will show employees that the company cares about making their lives easier.
A strong employee experience is also built through honest dialogue. Executives and managers must create an environment where the employees feel safe and can trust people in authoritative roles. Open channels for communication should be established and employees should know that they can speak their honest thoughts and feelings without the risk of punishment or other negative repercussions. This can only happen if an environment of trust and respect is built by those in control.
Beneficial performance management can also create a strong employee experience. Successful managers should understand that this goes beyond performance management software, and requires them to engage with the actual employee, not just their work and goals. As a result, three factors are essential to optimizing performance management:
Alignment. Businesses should focus on syncing an employee's personal and career goals and values with the business's purpose, values and missions. This will help create a strong employee experience where workers feel fulfilled in both their personal and professional lives.
Engagement. Businesses should also focus on finding ways for employees to find or unleash passion through their work. This will also create a sense of fulfillment that strengthens the employee experience.
Capabilities. Employees should be given any new skills and knowledge that are necessary for them to not only complete their work but excel in their performance.
Similarly, employee recognition also has an impact on the employee experience. Workers should be celebrated when they hit their key performance indicators (KPIs) or sales goals. Their hard work should be recognized and appreciated to help them feel like they are a valuable, essential part of the company and what they are doing matters.
Employee experience tools
Gathering feedback is critical in beginning to think about an employee experience strategy and design process. Talking with employees can help in understanding their receptiveness to change and their pain points.
Feedback software, including pulse tools such as TinyPulse and Subcurrent -- which support running polls on the Slack collaboration platform -- and employee net promoter score surveys can highlight areas of the organization that are working well or need improvement.
Software vendors have started offering what they call cloud-based "employee experience platform" products. They include ServiceNow, Willis Towers Watson's HR Portal Software, Deloitte's ConnectMe and Ultimate Software's PeopleDoc.
This was last updated in
January 2020
Continue Reading About employee experience
Dig Deeper on Employee engagement and recognition software