Zugata is continuous performance management software that allows employees to provide each other with feedback about each other's work. With the standard version of Zugata, the feedback is anonymous. Zugata Enterprise can be configured to name which employee has provided the feedback. The software does not rate employees for purposes of compensation; it is intended to help employees reach their full potential.

Download this free guide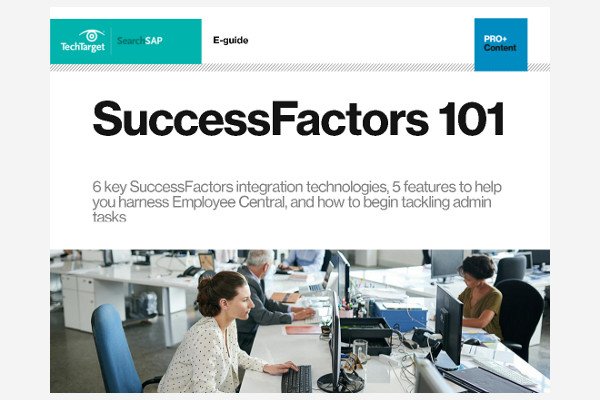 Exclusive Download: SuccessFactors 101
Dive into 6 SuccessFactors integration technologies you need to know, 5 features to help you take charge of Employee Central, and where to begin with admin tasks.
The software mines calendars, email and collaboration tools to identify an employee's co-workers. Each week, the software sends an electronic skill card to employees asking them to mark five or six skills of a co-worker as either "rocking it" or "work on it." Zugata also sends a final blank card asking co-workers to write an example of something an employee did well or could have done better. The co-worker gets the ratings in an electronic envelope, but the source of the feedback is anonymous unless the organization has the enterprise version and decided to identify who has provided the feedback. The employee pair who gave or received feedback are the only ones who see it.
Zugata provides analytics that show a summary of aggregated feedback on an employee and the employee's progress on certain skills over time. On the summary page, top strengths show the percentage of fellow employees who rated a skill as a strength. The software uses machine learning to identify and recommend mentors and content that can help an employee improve in an area.Zugata Enterprise also includes advanced analytics that aggregate and summarize the ratings of key skills by organization and team. This allows managers to see the top strengths and skills that need work, broken down for the organization and for various groups in the organization. Leaders can use the data to target training.
The vendor, which is also called Zugata, is based in Palo Alto, Calif. The company was co-founded in 2014 by CEO Srinivas Krishnamurti, former senior director of enterprise mobile solutions at VMware, and CTO Philippe Van Nuijs, former director of engineering, mobile, at Jive Software.
Continue Reading About Zugata
Dig Deeper on Cloud HR software