Definition
HRIS (human resource information system)
A human resource information system (HRIS) is software that provides a centralized repository of employee master data that the human resource management (HRM) group needs for completing core human resource (core HR) processes.
An HRIS stores, processes and manages employee data, such as names, addresses, national IDs or Social Security numbers, visa or work permit information, and information about dependents. It typically also provides HR functions such as recruiting, applicant tracking, time and attendance management, performance appraisals and benefits administration. It may also feature employee self-service functions, and perhaps even accounting functions.
Content Continues Below

Download this free guide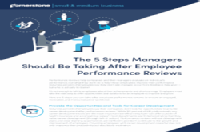 5 Steps Managers Should Take After Employee Performance Reviews
When it comes to performance reviews, it's not enough to talk to employees about their achievements and shortcomings—employers must also offer opportunities and solutions for an employee to improve and grow. Here are 5 steps you can take after employee performance reviews to ensure an engaged, motivated, and more productive workforce.
In some ways, an HRIS can be considered a smart database of employee information. The interaction of the data, the processes that can be performed and the reporting capabilities make the data stored in the system more accessible and usable.
HRIS benefits
An HRIS enables the HR department to spend less time on clerical tasks, helps ensure the accuracy of employee data and can enable employees to take a greater role in the management of their information.
Having a centralized repository for employee data removes the need to store paper files, which can be easily damaged, as well as the need to search through large paper-based employee files to find information. Depending on the type of HRIS software, it should generate various reports, provide ad hoc reporting capabilities and offer HR analytics on important metrics such as headcount and turnover. Modern HRIS software also offers visualization capabilities for employee data, such as automatically rendered organizational charts or nine-box grids.
When an HRIS has employee or manager self-service, the process for making employee master data or organizational changes becomes more efficient and uses less time than with paper-based requests. Approval workflows enable changes to be approved or rejected, with the necessary individuals automatically notified. An HRIS might also offer mobile capabilities that extend self-service and provide additional flexibility for remote workers.
HRIS security and privacy
An HRIS also helps secure employee data and keep information private. When using paper forms or spreadsheets, information can easily be accessed by people who may not have the authority to access it. An HRIS can secure information so that it can only be accessed by the individuals that need to have access to it.
Data security and privacy are important factors when handling sensitive personal information, especially in countries like Germany or France, where works councils have a strong role in protecting employee data. With the exception of lock and key, protecting paper records can be extremely difficult.
Types of HRIS software
A variety of HRIS systems are available and aimed at different types of customers, ranging from small and medium-sized businesses (SMBs) all the way up to large enterprises. Usually, the difference is in the range and depth of features for each process area.
While most HRIS systems cover a large portion of the processes described above, many HRIS systems aimed at small to medium-sized enterprises (SMEs) have less depth of functionality in each feature than those aimed at large enterprises.
In this way, the HRIS market is similar to the automobile market. All automobiles will get a driver from A to B, but major differences exist in the quality and amenities offered.
HRIS functions
As an HR tool, an HRIS usually features modules to handle the following tasks:
Master data management (MDM)
Organizational management, such as positions and departments
Employee and manager self-services
Absence and leave management
Benefits administration
Workflows
Performance appraisals
Recruiting and applicant tracking
Training tracking (as opposed to a learning management system [LMS]) and organizational development
Reporting and basic analytics
An HRIS provides a comprehensive set of human resource management functionalities to serve most HR needs. Without this, unsecured or paper-based documents or spreadsheets are required to store data. Manual data entry can cause errors and manual cross-checking of documents and spreadsheets can be time-consuming and sometimes confusing, especially with a lack of standardization in how data is captured and stored.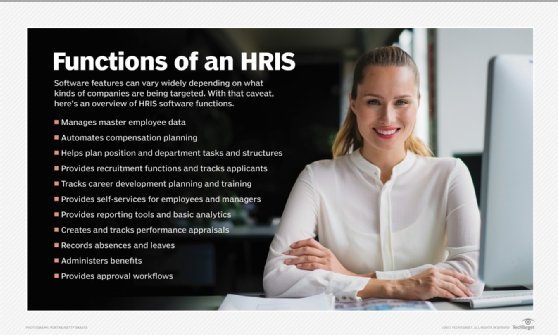 Even when a specific system is purchased to cover a process -- such as benefits administration -- it may mean manually entering employee data changes to keep the system up to date. If multiple systems are used, data re-entry may be required for each system, or users may need to export data from one system, change it and then import it into another system.
In some instances, payroll can be part of an HRIS. However, many vendors either don't have payroll as part of their HRIS offering, or -- as with Oracle, Workday and SAP SuccessFactors -- they sell payroll as a separate system that integrates with their HRIS.
Importance of HRIS
An HRIS can play a critical role in enabling compliance -- for example, to store regulatory data for a country, such as U.S. equal employment opportunity information or U.K. Working Time opt-out -- and can offer a means of gaining insight into the workforce. Both are important and, in some industries, are interwoven.
In addition, downstream integration of systems that require employee data, such as payroll or LMS, and the immense time savings from having integrated applications means an HRIS can serve a critical role, since data entry in multiple systems -- a reality for organizations without an HRIS -- can lead to costly errors or reduced employee engagement.
As one example, suppose a company that manually enters HR data mistakenly overpays employees or gives out too much vacation time. That company will find employee engagement negatively affected if the error is reversed, a situation that could be avoided with an HRIS.
The difference between an HRIS and an HRMS
Exact definitions for HRIS and human resource management system (HRMS) vary, but many experts take the view that an HRMS offers greater functionality by adding talent management and human capital management (HCM) options to human resource information systems.
The talent management functions often include:
Employee onboarding processes
Succession planning
Career development planning
Learning management
The HCM functions often include:
labor tracking, typically as a system that tracks all necessary work and distributes that work to workers, often in hourly roles, such as in manufacturing plants;
time entry and evaluation; and
workforce management.
HRIS analysts
HRIS analysts are highly trained professionals with skills in both IT and HR, who are responsible for managing the HRIS and presenting relevant and beneficial data on employee productivity, attendance, training and pay. HRIS analysts also ensure IT departments adhere to HR regulations as well as provide necessary resources to employees and arrange for appropriate equipment updates. Large organizations may employ several HRIS analysts to focus on specific HR tasks, such as employee benefits, compensation or training.
In general, HRIS analysts ensure efficient organization and presentation of information concerning all features of HR functions within a company. Some specific benefits HRIS analysts provide include:
Customer service for both the employee users of the HRIS and the management users.
Advice based on analysis of HRIS processes and outcomes from someone who specializes in the program and its performance.
Data entry for the large amounts of employee information that is gathered.
Assurance that employee information and data is kept confidential and secure.
Increased accuracy due to the analyst's editing and confirming of data before it is reported.
At this time, HRIS analysts are not required to possess any sort of certification. However, in order to be competitive in the job market and increase salary potential, it is suggested that applicants provide proof of their excellence in the field and commitment to HR by obtaining certifications such as the Professional in Human Resources (PHR) or Senior Professional in HR (SPHR) certifications -- both from the Human Resources Certification Institute (HRCI) -- and the Human Resources Information Professionals (HRIP) certification form the International Association for Human Resource Information Management (IHRIM).
Currently, the average salary for an HRIS analyst is around $64K per year, with senior HRIS analysts making around $80K per year.
This was last updated in
September 2019
Continue Reading About HRIS (human resource information system)