Topics Covered
Core HR, payroll and benefits administration

(5)

+

HR analytics

(3)

+

HR systems and HCM software

(9)

+

Talent management systems

(7)

+

Workforce management and planning software

(3)

+
Trending Topics
HR technology can play a large role in helping companies navigate through COVID-19, set workforce strategy, and reevaluate HR programs and internal communications.

Employee surveys are a must-have, but you can find employee experience metrics in all sorts of places -- some right under your nose. Here are the best places to look.

Download this free guide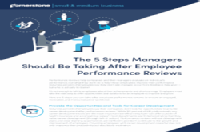 5 Steps Managers Should Take After Employee Performance Reviews
When it comes to performance reviews, it's not enough to talk to employees about their achievements and shortcomings—employers must also offer opportunities and solutions for an employee to improve and grow. Here are 5 steps you can take after employee performance reviews to ensure an engaged, motivated, and more productive workforce.
Find Solutions For Your Project
Evaluate

DAPs guide employees through new systems and offer tips on workflow best practices. Turnover and onboarding challenges drove demand for DAPs before COVID-19 raised the urgency.

View All Evaluate

Problem Solve

The COVID-19 recession demands creativity to stay competitive. Here's a look at 18 HR cost reduction ideas -- including freezing HR tech projects -- that have the potential to help.

View All Problem Solve

Manage

The COVID-19 pandemic is causing new issues for workers across industries. Here's how HR and IT can collaborate on creating a better employee experience.

View All Manage
HR Software Basics
Get Started

This handy guide shows you how to build your own employee journey map, which is more important than ever as the coronavirus disrupts workforces across the globe.

Get Started

Employee experience is a worker's perceptions about his or her journey through all the touchpoints at a particular company, starting with job candidacy through to the exit from the company.

Get Started

Finding the right software isn't just a one-stop shop. You'll need to ask the right questions before determining the HR software that is best for your company.
View All Get Started
Vendor Resources
Sections from across

SearchHRSoftware