Evaluate
Weigh the pros and cons of technologies, products and projects you are considering.
A guide to workforce management solutions and software
This workforce management software guide contains information on trends, strategies and benefits to assist you in choosing the right software to manage your workforce.
Introduction
Fast-changing labor and market trends are putting pressure on organizations to keep pace and manage their workforces as efficiently as possible.  For many companies, this has meant adopting workforce management software.
The potential benefits of workforce management software include increased productivity, better labor planning, more efficient time and attendance tracking, and significant savings in both time and money.  But just like the underlying economic trends, the software tools are changing rapidly, and it behooves organizations to stay informed about the latest innovations, trends and best practices in workforce management technology.  This guide provides tips, case studies and expert advice on how to keep your workforce management strategy successful and up to date.
1

Trends

-
What's new in workforce management software
Trends in workforce management software are always changing, and it's important for organizations to stay up to date with the newest innovations. Read more for tips and advice on how to keep pace with the latest trends.
2

Benefits

-
Save time and money with workforce management software
As the economy continues to recover, it is very important to ensure your company has everything necessary -- and then some -- to meet customer demand. Explore the benefits of workforce management software, including saving time and money while boosting productivity.

Download this free guide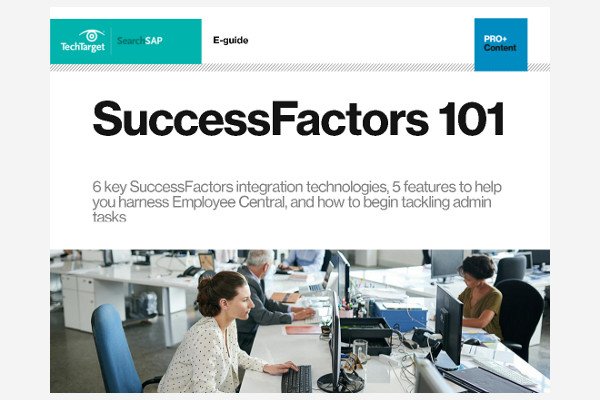 Exclusive Download: SuccessFactors 101
Dive into 6 SuccessFactors integration technologies you need to know, 5 features to help you take charge of Employee Central, and where to begin with admin tasks.
By submitting your personal information, you agree that TechTarget and its partners may contact you regarding relevant content, products and special offers.
You also agree that your personal information may be transferred and processed in the United States, and that you have read and agree to the Terms of Use and the Privacy Policy.
3

Strategies

-
Strategies and best practices for successful workforce management
Once you've chosen workforce management software, make sure it's everything you want it to be. Read on for tips and strategies on how to get the most out of your workforce management software, and also discover some best practices organizations follow for successful workforce management.
4

Glossary

-
Important terms related to workforce management software
This glossary provides common terms that are related to workforce management software.
5

Quiz

-
Quiz to workforce management tools and software
Take this short quiz to test your knowledge of workforce management tools and software.
Take the quiz!