Definition
employee life cycle
The employee life cycle (ELC, also sometimes spelled as employee lifecycle) is a human resources model that identifies stages in employees' careers to help guide their management and optimize associated processes.

Download this free guide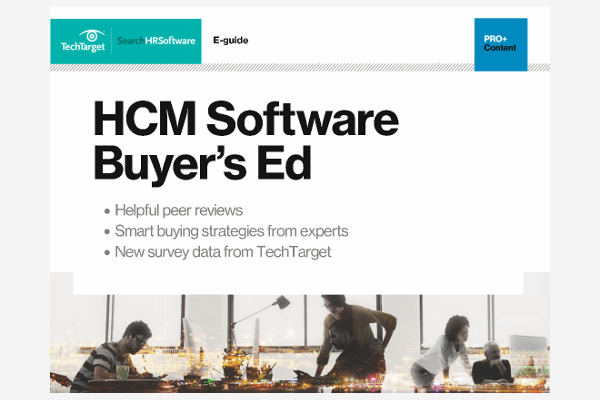 HCM Software Buyer's Ed
HR software is not one size fits all. Explore buying strategies from experts, new TechTarget data showing the top features consumers are looking for, and reviews right from your peers. This guide is your introduction to HCM software.
By submitting your personal information, you agree that TechTarget and its partners may contact you regarding relevant content, products and special offers.
You also agree that your personal information may be transferred and processed in the United States, and that you have read and agree to the Terms of Use and the Privacy Policy.
Specific employee life cycle models vary but common ELC stages include:
Recruitment: This stage includes all the processes leading up to and including the hiring of a new employee. E-recruitment software may be used to automate some of the selection process, for example filtering applications and resumes for requirements. Personality profile assessment tools such as the Predictive Index (PI) are also sometimes used to try to ensure the best possible fit between job and employee.
Onboarding: In this relatively brief stage, the employee is added to the organization's identity and access management (IAM) system. The stage includes ensuring that the employee has access to any applications and systems that are required for his job.
Orientation:In this stage, the employee settles into the job, integrates with the corporate culture, familiarizes himself with coworkers and management, and establishes his role within the organization.
Career planning: During the planning stage, the employee and management collaboratively develop objectives and goals. Personality profile assessments are sometimes used in conjunction with an evaluation of the employee's performance to date.
Career development: In this stage, the employee matures in his role in the organization. Professional development frequently involves additional training. The challenges in this stage are employee engagement and retention.
Termination: In this final stage, sometimes referred to as "transition," the employee leaves the organization. The specific processes are somewhat dependent upon whether the departure is the result of resignation, firing or retirement. However, in any case, offboarding is a feature – the employee is removed from the IAM system. Many organizations schedule exit interviews in an attempt to get useful input from the departing employee.
Continue Reading About employee life cycle
PRO+
Content
Find more PRO+ content and other member only offers, here.